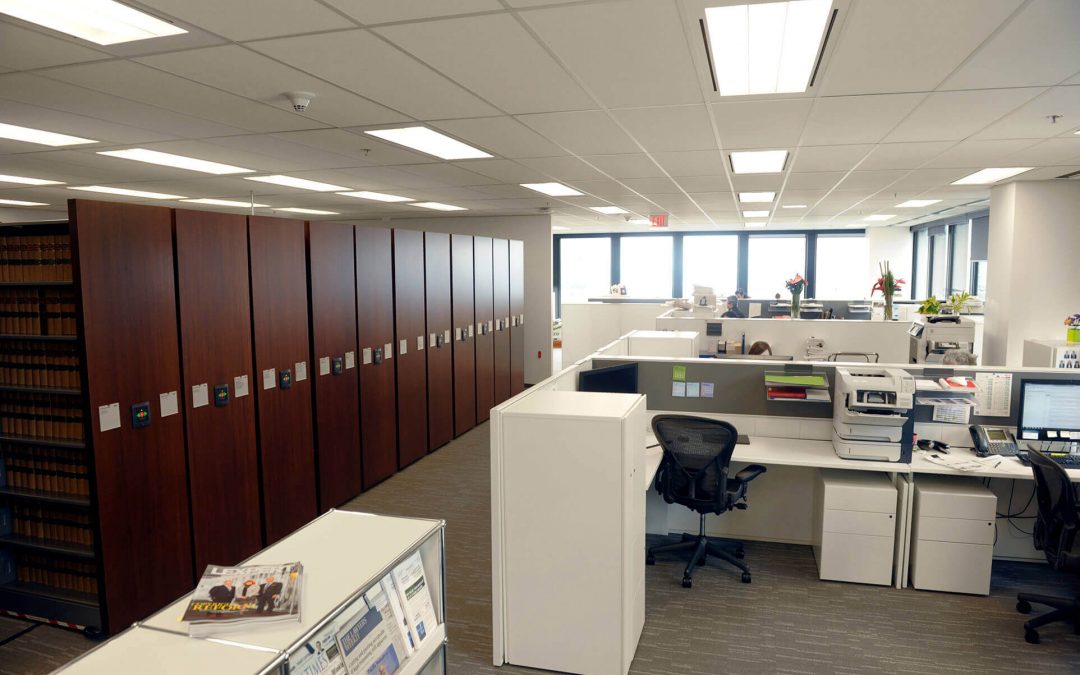 TORONTO LAW FIRM CREATES AN OPEN OFFICE CONCEPT WITH MOBILE FILING SHELVES
Thousands of inefficiently stored case files were creating a serious problem for a law firm in Toronto. The limitations of the law firm's lateral filing cabinet drawers made it hard to store the large case files. As a result, they were stored in such a way that made it virtually impossible to find the right one without taking them all out and putting them all back in again. This led to plenty of wasted time and a very inefficient environment.
A MORE EFFICIENT MOBILE FILING SYSTEM
Employees needed to have quick, easy access to files and a more organized system needed to be put into place. In addition to organization, the law firm also wanted to create a more modern, aesthetically pleasing environment as well.
Based on referrals from other law firms in the area, the firm reached out to Spacesaver Solutions. Our Storage Expert surveyed the space, assessed the type and size of case files being stored, and created a storage solution that would increase capacity for file storage as well as space for other functions of the business, including additional office spaces for lawyers, attorneys and other employees.
Our Storage Expert designed a custom cabinet that would be used to store case files. The cabinet has six shelves, all designed to be the correct height for storing files, binders, and boxes at the same time without any need for adjustments. Unlike traditional cabinets, the center support frame was removed allowing staff to fully utilize each shelf.
MOBILE FILING SHELVES DOUBLE THE AMOUNT OF FILES IN THE SAME SPACE
To eliminate case files being buried within shelves and impossible to find, Spacesaver Solutions installed bi-file mobile filing shelves. The new systems allowed two rows of filing equipment to be placed in nearly the same footprint.
The front shelf sections rest on a mobile carriage that travels back and forth, and the movement allows easy access to the back row of static shelving. With this system, the files are more compact and out of the way, yet offer 100% accessibility to any file that an employee would want or need to access.
MULTIPLE DEPARTMENTS ARE ABLE TO USE THE MOBILE FILING SHELVING SYSTEM
File storage was further compacted through the use of three mechanical-assist mobile systems, which were installed to store records in the Accounting, Records, and Minute Book departments. In addition, one of the systems housed an elaborate legal library. Combined, the mobile systems held the entire collection of records and library materials while leaving space for future growth.
To aid with matching the mobile systems to the look and overall feel of the office, the mobile systems were outfitted with custom dual-entry wood veneer end-panels.
MORE PRODUCTIVE AND EFFICIENT WORK ENVIRONMENT BECAUSE OF MOBILE FILING SHELVES