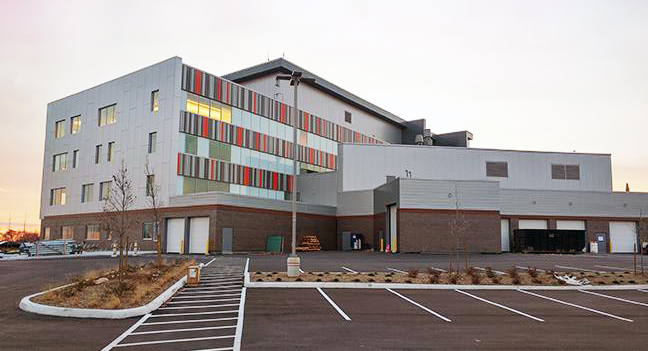 SUSPENDED HIGH DENSITY SHELVING CONDENSES POLICE STORAGE
Halton Regional Police Quarterstores Services coordinates all supplies within the police organization, including thousands of uniforms and equipment items. The centralized Quarterstores Unit keeps an inventory of all commonly used items and distributes them throughout the organization as needed.
ADJUSTABLE STORAGE SYSTEM FOR EVER-CHANGING PACKAGING SIZES
The Quarterstores Service Unit was moving to a new location and needed an adjustable storage solution for their ever-changing packaging sizes. It would have to store uniforms, seasonal wear, footwear, headgear, and a range of general supplies the staff might require. The police wanted all items to be stored in an organized and efficient manner with room to grow as their needs change. So they reached out to the experts at Spacesaver Solutions.
SUSPENDED MANUAL MOBILE SYSTEM OFFERS FLEXIBILITY AND DURABILITY
After meeting with Halton Regional Police, our Storage Expert designed a solution that included a LEVPRO manual mobile system. Traditional manual mobile systems place carriages on rails in the floor that move back and forth to compact storage into half the space. However, the LEVPRO system is different. Instead of placing carriages on rails in the floor, the LEVPRO system suspends the shelving on an overhead track. The rail-less design and steel construction make the LEVPRO system durable for years of use, while the configurability makes it easy to add onto and relocate the police storage system for their changing needs.
ADDED SYSTEMS TO EASILY MANAGE ORDER AND DELIVERY PROCESSING
We installed 4-Post and Cantilever shelving for added storage. These systems house everything from jackets, shirts, and boots, to helmets, badges, and stationary. We also provided a Rousseau work bench to allow staff to easily manage order and delivery processing.
"Just a quick note to say what an incredible job you and your install team did with this project. You walked us through and provided us your knowledge, experience, and advice on our needed storage solutions. Minh and his crew were professional and efficient. Thank you! We so appreciate your efforts and thank you very much.".