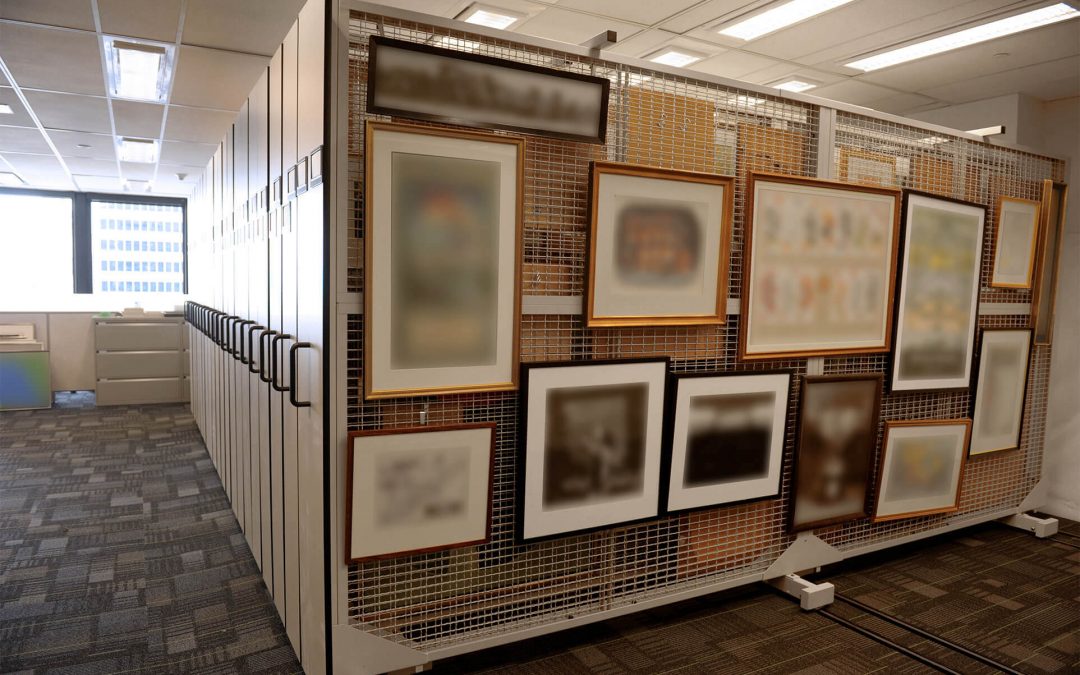 ARCHIVAL STORAGE AND ART COLLECTION STORAGE FIND AN UNLIKELY HOME – IN A BANK
When owners and collectors of fine art travel, downsize, or simply have too large of a collection to display at one time, they have a few options for storing their pieces, including private storage units or attended art storage warehouses. One of the safest and most secure options, however, is bank vault storage. Some banks offer highly protected, climate-controlled archival storage for valuables and art.
This was the case at a bank in Ontario. As a service to its clients, the bank had a secure storage facility for art and archives in the basement of an office tower. At the original facility, small archival boxes were being stored on standard static shelving. The nuts-and-bolts construction of the shelving left few options for items that weren't a standard size and provided very limited storage space. These constraints meant that some boxes had to be stacked on the floor, putting them at risk of water damage and exposure to dust and dirt.
WOODEN BIN SYSTEM MAKES WAY FOR A MORE SECURE AND ACCESSIBLE ARCHIVAL STORAGE SYSTEM
The fine art collection storage were being stored in large wooden bins stacked two high. When owners came to access their pieces of art, the stacking made it difficult for bank employees to locate and remove the correct piece. The repeated removal and replacement of the artwork began to cause damage to the frames and surfaces – a major issue when working with valuable works. With items of various sizes and shapes, it became difficult to use the wooden bin system at all, meaning that many pieces of art had to be moved to the floor where their only protection from water damage and dust was a plastic sheet draped over the top.
The cramped space was at capacity, which meant the bank could no longer accept more clients' artwork.  Without an internal locking or tracking system, the valuable pieces were vulnerable to security issues. To maintain top notch customer service, as well as maintain the integrity and security of the archival storage and artwork, the bank knew it was time for a newer, more accessible storage solution.
ART COLLECTION STORAGE SECURED BY AUDIT TRAIL TOUCHPAD
The staff turned to Spacesaver Solutions to partner with them in designing a new system to accommodate the needs of the bank and the art owners. Spacesaver Solutions installed an Eclipse Powered high-density mobile storage system to house the archival storage boxes. With aisles that move at the touch of a button, the system eliminates wasted space to add much-needed capacity to the storage room.
To ensure maximum security, the system is equipped with locking Audit Trail Touchpad so that the shelves can only be accessed by authorized personnel with a PIN code. In the unlikely event that an item is misplaced, Audit Trail allows the bank to track everyone who has previously accessed the shelf using a software interface.
ART RACKS PROVIDE NEEDED SECURITY, INTEGRITY, VISIBILITY AND ADDED CAPACITY
The new archival storage system also includes a water diversion kit with rubber gaskets that cover all panel gaps. In the case of a leak or sprinkler system use, the archive boxes will stay dry and undamaged inside the shelves.
To accommodate pieces of artwork as large as 6 feet x 8 feet, Spacesaver Solutions suggested Spacesaver Art Racks. Artwork can be rearranged on the racks as needed, and the shelves slide apart to provide both added capacity and maximum visibility to help staff locate pieces.
CLIENTS CAN REST ASSURED THAT THEIR TREASURED ART COLLECTIONS AND MEMORIES ARE SAFE
With the new storage system in place, the bank is poised to provide exceptional security and customer service for clients. Employees spend less time searching for items, and with 60% more space created by the new archival storage, the work environment is much less cramped. Most important, clients can rest assured that their treasured collections and memories are safe, protected from damage, and can be quickly located when needed.