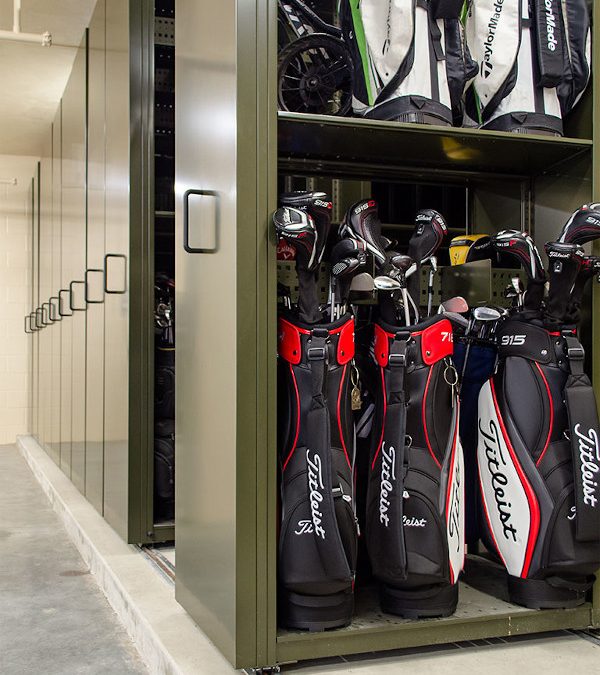 Creating a Comfortable and Convenient Guest Experience
A planned community in Florida was building a new clubhouse for one of its golf courses, and the planning team wanted to provide a convenient place for residents and their guests to store golf bags. They also wanted every aspect of the guest experience to reflect the fast-growing community's commitment to comfort, ease, and quality.
This clubhouse used a Wheelhouse Modular Mobile storage system to optimize space and create a sleek, attractive storage area for golf bags and other gear. The new storage system holds 240 bags inside the golf cart garage near the guest entrance. The system is manually operated, and its attractive appearance reinforces the community's high-end reputation. To prevent standing water from accumulating around the shelving, the architect designed a concrete platform that was slightly raised above the garage floor level. The shelving and dividers inside the system are reconfigurable without special tools.
Community members have been so pleased with the system's appearance and function that they recently replaced the shelving at another nearby clubhouse with a new Spacesaver system.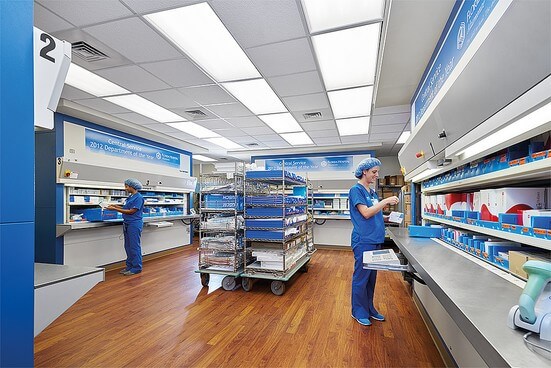 Labour is always on the mind of OR and Sterile Processing Department Directors. They need their staff to be as productive and accurate as possible. That means minimizing the things that can draw them away from their jobs.
A Common Misconception
Some hospitals hesitate to install a vertical carousel because they're worried it will be difficult and take too much time to train their employees.
This is short-term thinking for a long-term solution. The workplace is focused on new technology, and employees are becoming efficient at working them into their daily jobs.
For example, years ago instrument tracking systems were new and complicated. Now, they are a standard technology used every day in sterile processing departments.
Keep Everything Organized and Centralized
Instead of static shelves that employees have to search through to find what they need, many hospitals use a storage system that keeps everything organized and centralized.
The Hänel Vertical Carousel storage system features a user-friendly interface that can be easily taught with brief lessons and a few practice uses for each employee.
User manuals are readily available, but won't be needed. With Hänel's inventory management software, the vertical carousel remembers where items are stored so employees don't have to.
Quickly Get Everyone Up To Speed
Get everyone up to speed within a day or two with hands-on picking and stocking to reinforce training. Hänel's Rotomat Vertical Carousel makes automated storage efficient and easy. It's the ideal solution for sterile processing departments looking to improve productivity and efficiency.