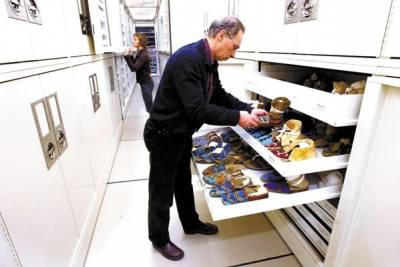 In the Toronto Sun Series, Hidden Treasures of the ROM, reporters get a first-hand look at some of the rarely seen artifacts stored in the museum's secret vaults and high-security warehouse.
After reviewing the content, we've uncovered a few treasures of our own! Our artifact storage solutions may not be awe-inspiring, but they do play a key role in the ROM's ancient artifact storage – To Protect and Preserve!
Click on the video link below for complete coverage of the story. Our high-density mobile shelving and custom cabinets can be seen at the 5:15 mark and from 7:04 to 8:20 in the video. Make sure to scroll down to view our custom museum cabinets, storage for the Ethnology Collection at the Royal Ontario Museum.
https://www.torontosun.com/news/torontoandgta/2010/02/27/13053251.html