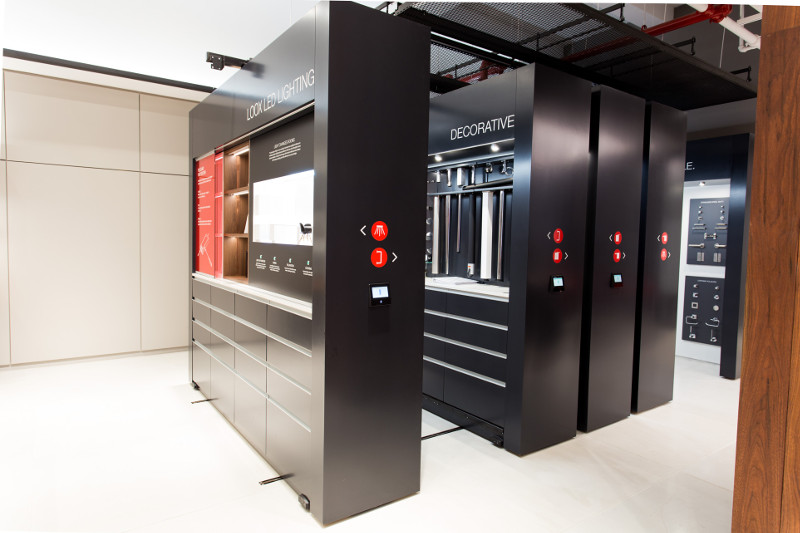 Mobile Shelving Maximizes Space in Manhattan Showroom
Häfele America Co. manufactures and distributes high-end residential and commercial hardware. They recently designed a new showroom in Manhattan to showcase their innovative fittings, slides, and other products and needed help figuring out how to store their materials in a beautiful way. The design team was challenged with the new space as it was smaller than the previous showroom. In addition to the smaller space, the company's product lines were expanding and more product would need to be displayed. The design team wanted every aspect of the showroom to reflect Häfele's dedication to innovation and premium quality. So they called the experts.
A compacting showroom display was the perfect solution for this retail location. The display consists of a powered high density mobile system with custom millwork. The aisles can be opened and closed with the push of a button, making it easy to access all materials and samples. Space was created at eye level with elegant built-in lighting to beautifully display hardware, and drawers were added below for more hidden storage.
The clients were thrilled with the end result of the compacting showroom display. Christine Bengston, Senior Marketing Manager for Häfele America Co. who oversaw the design project said  It's transformative. You can be standing in one aisle, talking about small items like hinges, and then you simply press a button and walk two feet over and you're talking about massive sliding architectural hardware. This system is a key element in our showroom, providing us the flexibility for transforming our space."
Bengston added that the Spacesaver system integrates perfect with Häfele's mission and philosophy, providing an impressive and innovative experience to showroom visitors. "It's always a 'wow' moment for our customers." she said.