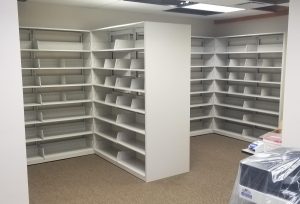 We helped the Canadian Mental Health Association organize and store their files to maximize capacity and improve efficiency.
" I am writing to express our appreciation for doing such a nice job with the filing system in our new Huntsville Office. I have not yet been able to see it in person but from the photos, it looks great. Very happy with our choice to go with your services.
Willy was great to work with.  Very prompt, efficient and accommodating in preparing quotes and floor plans. Pricing was reasonable.  We very much appreciated the no-hassle services. Greystone commented that your installation team was great to work with.
  – Michael Varieur, Director of Quality & Risk, Canadian Mental Health Association, Muskoka-Parry Sound Branch.