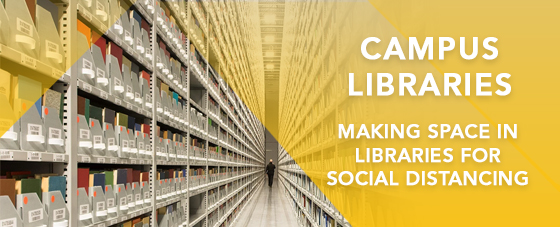 Save Space and Promote Learning With These 3 Strategies
In order for students to feel safe and focused, campus libraries are looking for ways to allow for social distancing without sacrificing the storage of necessary learning materials. Access to texts and materials in libraries is essential, but there's also a new demand for space.
Thankfully, with high density mobile storage systems, it is possible to store necessary materials for student access while freeing up space for social distancing.
Libraries can use mobile shelving to save space and promote learning with these 3 strategies.
Strategy 1: Off-Site Storage
Move collections to an off-site facility to free up space for social distancing.
Consolidating printed materials, artwork, archives, and other collections in off-site facilities allows institutions to re-purpose valuable space on campus. In the short term, this opens up enough space to enforce social distancing guidelines. The in the longer term, the open areas can be reconfigured to offer new technology and collaborative work spaces.
Strategy 2: Compact Storage On-Site
Reduce the stacks' footprint with high density mobile shelving.
High density mobile shelving systems keep materials on-site in about half the space of static (non-moving) shelving. This frees up space for individual carrels, socially distant collaboration areas, or other uses. Compact shelving can also delineate areas to help enforce density guidelines.
To reduce high touch surfaces, considered powered mobile systems that allow users to open and close aisles from their personal mobile devices instead of using touchscreens.
Strategy 3: Convert Existing Mobile Systems
App-controlled systems enable touchless operation.
Eliminating high touch surfaces is one of the best ways to prevent disease transmission. The TUSC Control app allows users to open and close aisles, browse and search for stored items, and view the system's safety status – all from their personal devices, without touching the system's control pads.
Clients with mechanical assist systems can have their systems converted to the powered operation to enable the app.