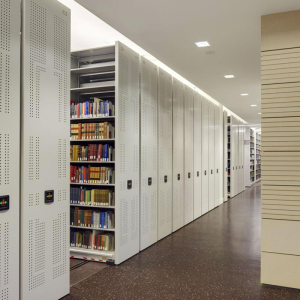 Is your organization running out of space? Do you spend a lot of time searching for the information you need? Solve your problems with high density storage solutions! Here are 3 ways high density storage can improve productivity while saving you money at the same time.
1. DOUBLE YOUR USEFULL SPACE
By compacting your storage into half the space, you can create more room for high productivity and revenue generating activities. Create more space for workstations, add a lunch room or collaborative space – the possibilities are endless!
2. STOP SEARCHING
Stop spending time searching in some poorly lit back room through drawers of incorrectly labeled files. High density storage performs well and looks great so  you can place these systems in the middle of the workspace. Now everyone can have easy access to the information you need, right where you need it.
3. STAY ON TASK
Now that you don't have to go and search for the information you need, there are much fewer distractions. You may not run into that chatty co-worker or get tempted by those sweets someone brought in that you just "happened" to walk by. You can easily continue on with the work you're doing and get that project done!.