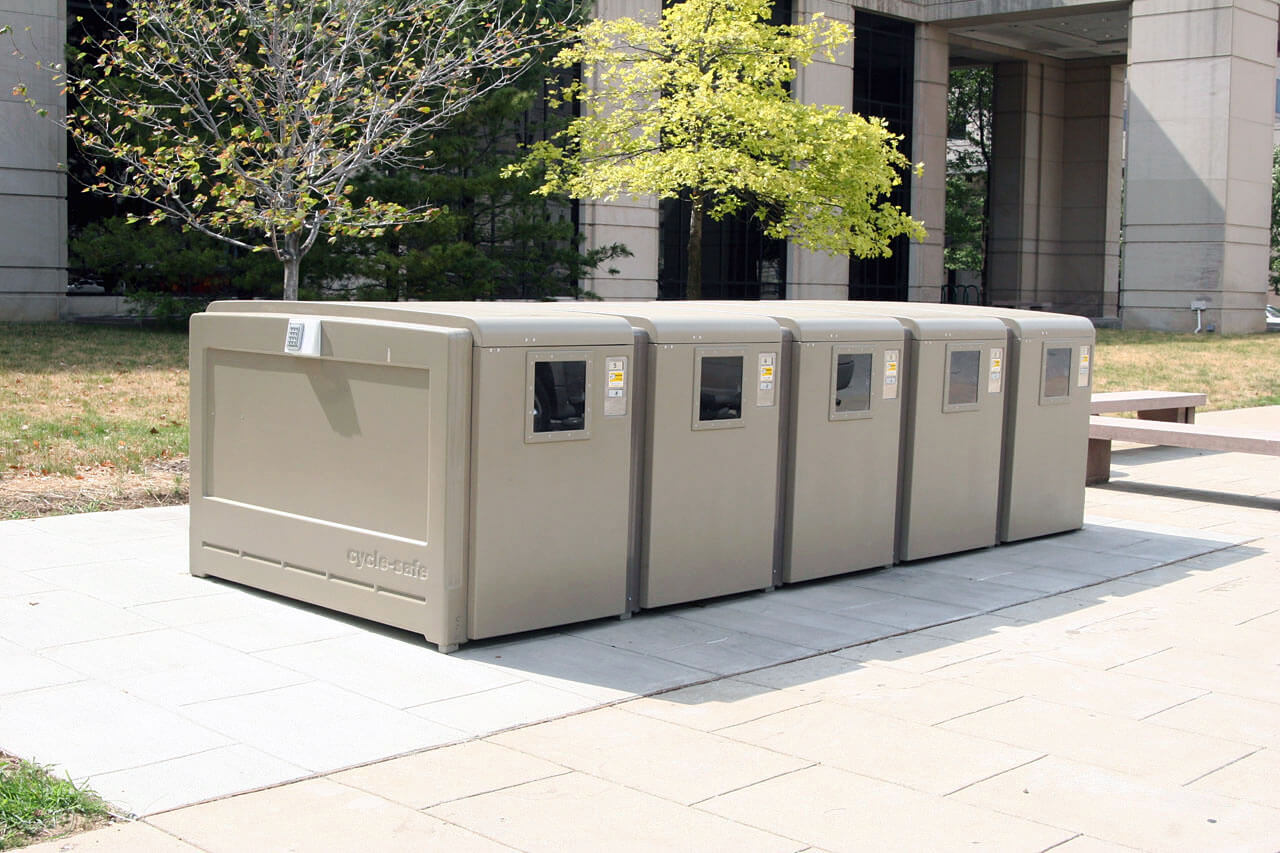 Bicycle lockers provide Class1 long term security for bike parking. They protect the entire bicycle and accessories against theft and weather, provide dedicated individual access, and encourage cycling as transportation.
Selecting the right bike locker for your project can be difficult. With so many options to choose from, it can become overwhelming very quickly. This guide will help you make the best decision when buying bicycle lockers for your site. Here are six things to keep in mind when selecting a bicycle locker: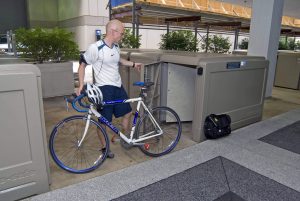 1. Security
Material:  The type of material the bicycle locker is made of has a big impact on the strength and security of the locker. Fiberglass composite and metal bike lockers are the most durable, while plastic lockers are a weaker option.
Visibility: Fiberglass composite bike lockers feature weatherproof polycarbonate panels that provide visibility into the lockers for added security at airports and transportation centers.
Lock Options: There are many lock options to choose from with different levels of security. Coin operated and user hasp locks are lower security and require more management. Built in T-Handle locks are vault type locks recommended for highest security. For a more high tech option, the lockers can be equipped with electronic access for locker rental and dedicated use. Choose from key fob, RFID card, or numeric keypad.
2. Space Planning
Access: To make the best use of available space, choose bike lockers with a door on each end, creating independent access for two bikes.
Modular: Modular bike lockers can be connected together to create efficient bike parking that fits your space.
Maximize Space: To maximize your space, double tier bike lockers can be stacked on top of each other to double the number of bicycles parked per square foot.
Accommodate Different Sizes: Ensure the bike locker door is wide enough to fit bikes with wider handlebars, and the interior dimensions can accommodate electric bikes or larger.
3. Comparing Materials
Fiberglass Composite: Fiberglass Composite bike lockers are made of a sheet of molding compound (SMC) that's formed in a closed-molded compression process. This creates uniform parts forged with heat and pressure for increased impact strength and puncture resistance. SMC offers the strength of steel, is UV, graffiti, and fire resistant, and is 30% lighter than metal lockers for more economical shipping, and easier assembly and relocation. SMC is corrosion-free, stands up to harsh environments, and will not conduct heat, cold, or electricity like metal lockers. They are extremely durable, made of recycled content, and will never need to be painted. The extended life of SMC gives the highest return on investment possible.
Ordinary Fiberglass: Ordinary Fiberglass is formed in an open-molded process with reinforced fibers sprayed into a single-side mold. This makes the material weaker than SMC and over time dirt will stick to them, they can grow fungus and algae on the surfaces, and can become chalky.
Metal:  Metal bike lockers offer high security because of the strength of steel, but are also very heavy and expensive to ship and relocate. On hot days, the interior can get very hot, which can harm bicycle components and accessories. Powder coated steel will eventually dent, scratch, chip, and rust, and will require more maintenance over the long run.
Plastic: Plastic bike lockers are made of one resin (polyethylene) and are not recommended because of their poor structural quality and appearance. They are cheaper and more lightweight, but are also highly flammable, easily cut or etched into, and typically equipped with low quality locking systems.
4. Installation and Maintenance
Assembly and Relocation: When making your decision to purchase a bicycle locker, make sure it's easy to assemble and relocate for future growth. Consider a design that can be mounted to a concrete pad, or on rails.
Quality Materials: Look for materials and coatings that offer graffiti or UV resistance, and won't require painting in the future.
Individual Components: Choose a modular bike locker with individual components that can be repaired or replaced without having to pay for an entire new locker system if severe damage occurs.
Shipping Costs: Remember that bike lockers that come ready to assemble are less expensive to ship than fully assembled lockers.
5. Aesthetics
Edges and Gaps: Keep an eye out for sharp edges or corners on metal lockers and any gaps that might collect water or debris.
Design: Look for modular, interlocking designs for best alignment.
Durability: Choose a locker with radial edges and a contemporary design that will look great for years to come.
6. Options
There are many different options and accessories for your bicycle lockers. Check out the list below:
Door or side panel windows for visibility and added security.

Side display panels for advertising and revenue generation.

Storage bins for cyclist gear.

Coat hooks for clothing and gear.

Numbered ID plates for easy locker identification.

Conventional electrical outlet charging station for electric bicycles or accessories.

A door check that keeps the door open while accessing the locker.

A public bike repair stand or public bike pump.

Bike locker support tools such as key management systems or electronic access systems for booking, payment, and remote access.