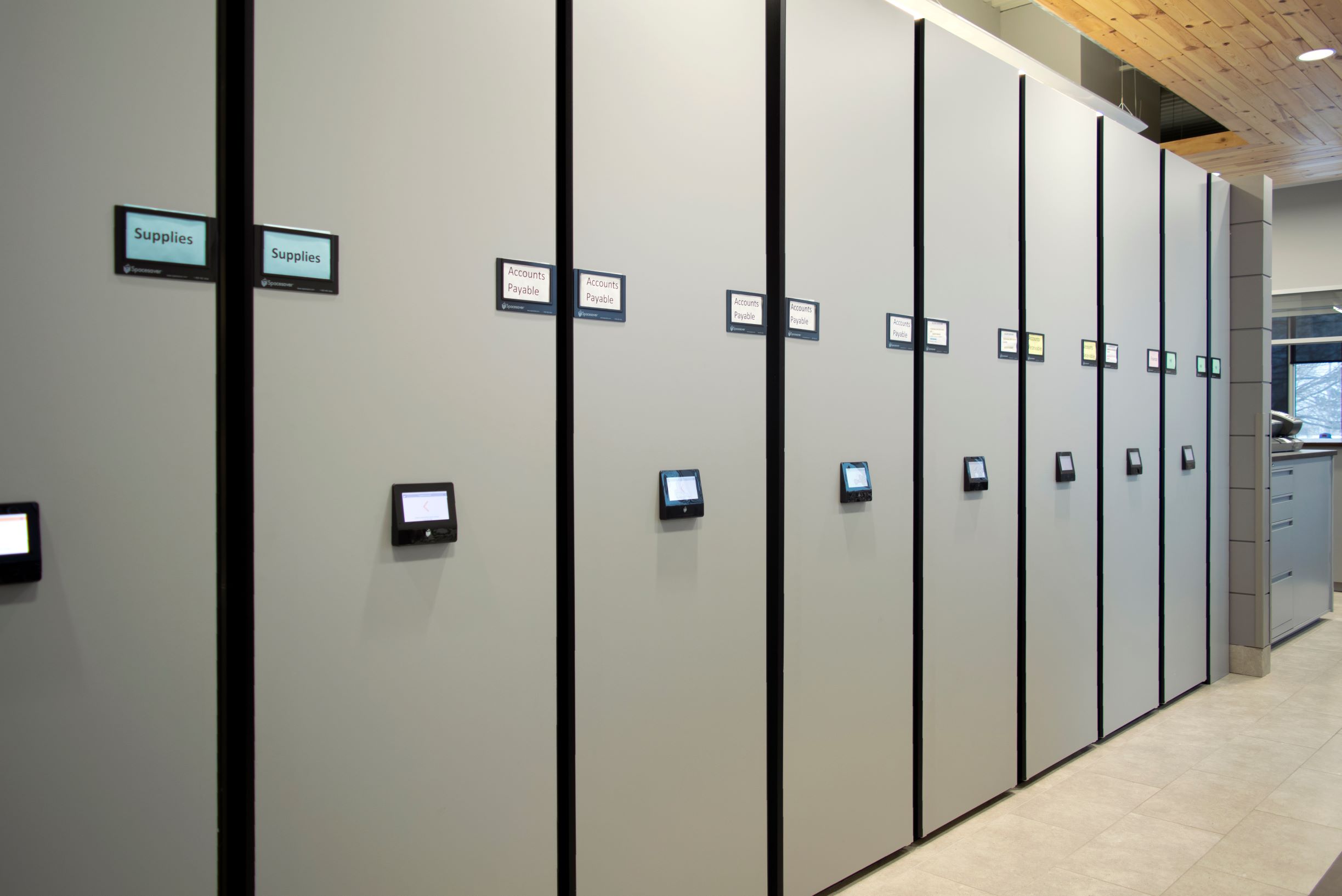 People have been seeing the benefits from mobile shelving for a long time. It creates space, improves productivity, and increases safety in your workplace.
After over 40 years of ingenuity, mobile shelving has evolved, allowing you to maximize the benefits of one of our favorite storage methods. Here are 8 ways mobile shelving can improve your workplace:
1. Increase Space
Get more out of your current space by doubling your storage capacity or by reducing your storage footprint by 50%. Mobile shelving has the potential to increase your storage capacity up to 300% compared to lateral filling cabinets.
2. Accommodate Growth
Programmable powered systems offer great long-term benefits to storage. These systems offer the highest storage density and allow you to plan for short-term or long-term expansion in existing spaces.
3. Improve Productivity
You, and those you share your storage space with, will be able to find stored materials quickly, freeing up time for more important daily tasks.
4. Customize Storage
Mobile shelving systems can be configured to fit your individual storage needs. Whether you are storing bulky boxes or file folders, mobile shelving is the ideal option. Deep shelves and heavy-duty carriages can handle any large boxes or heavy loads, while pre-configured measurements allow for perfect filing storage..
5. Increase Security
Although locking devices are available on any mobile storage system, programmable systems provide you with the ultimate in system security through electronic or remote access. This guarantees that only someone who has the proper authority can open aisles.
6. Improve Accessibility
By increasing the density of stored materials, you're able to bring your storage closer to your point of need. This gives you easier access to what you need most, and helps improve efficiency.
7. Safer Environment
Powered storage systems safely move heavy loads through electronic input. These storage systems offer the most options for protecting users and stored material.
8. Reduce Costs
When comparing a traditional filing cabinet to a mobile storage system, mobile shelving can double your storage in the same footprint at a similar cost or keep the same amount of storage in half the floor space at a much lower cost.
NEVER WORRY ABOUT YOUR STORAGE NEEDS AGAIN. WHETHER YOU'RE STORING FILES OR BULKY BOXES, MOBILE SHELVING WILL HELP YOU ORGANIZE YOUR STUFF EFFICIENTLY.