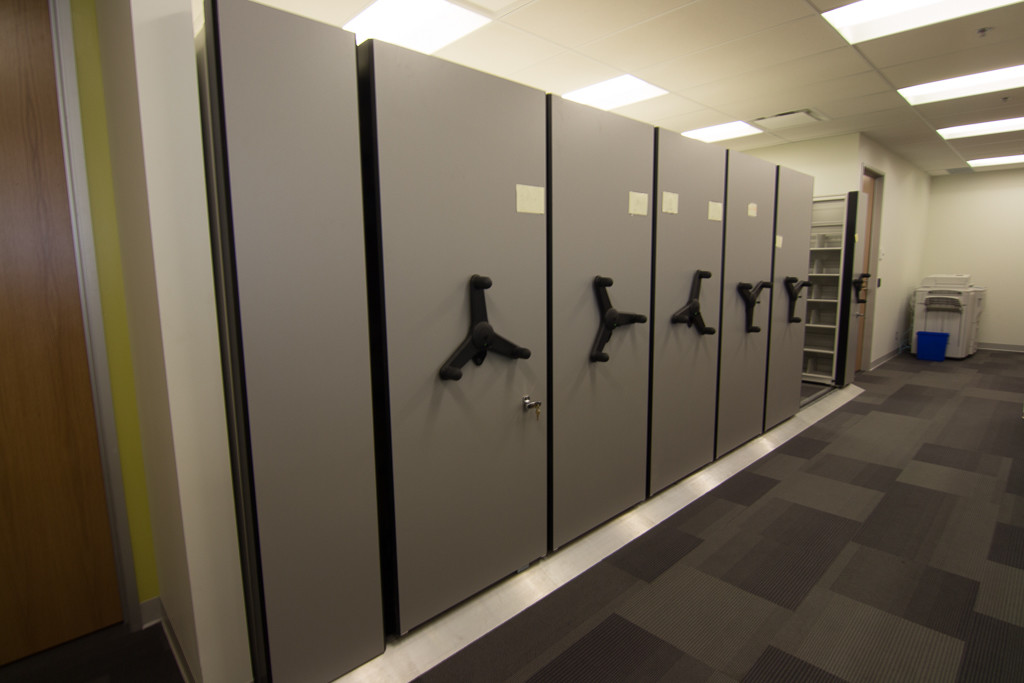 The Wheelhouse mobile storage system by Spacesaver is a modular version of their high-density mobile shelving.
Wheelhouse was re-designed from the wheels up to offer the same quality of standard mobile systems, but with the added benefit of being more cost efficient, modular, and sustainable than ever before. Below, we've listed five reasons to choose Wheelhouse by Spacesaver for your next high-capacity storage application.
                                                1. Re-locatable Modular Design
Wheelhouse allows you to reconfigure again and again to fit the needs of the user, potentially without any additional parts. Add length to carriages to allow for growth and easily take it with you when you move.
                                                 2. Budget-Friendly Price Tag
The wheelhouse mobile storage system provides a powered system with in-aisle safety for the price of the standard mechanical assist system.
                                                  3. Store More in a Lower Profile
Wheelhouse uses 3-inch wheels that are designed to directly interlock with the shelving assembly. This allows you to store more and still meet fire code regulations.
                                                   4. Sustainable Design
30% less steel is used compared to regular systems. Contributing to your LEED® and sustainable design projects.
                                                   5. No Decking Material
Wheelhouse systems can be installed directly on top of level floors for a quick and easy installation, or used with the XpressDek System to create a leveled, floating subfloor that doesn't require anchoring into the floor.
                                THE NEW XPRESSDEK RAIL SYSTEM
What makes Wheelhouse truly modular and cost efficient is XpressDEK – the most durable and low impact installation floor.
XpressDEK is the ideal floor and rail for any Wheelhouse system. It provides low-install impact in cost and site disturbance, as well as portability and adaptability to changing needs.