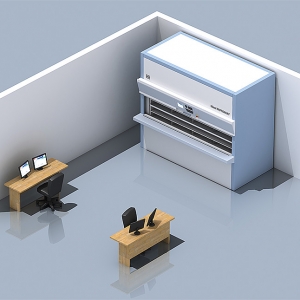 Vertical storage (also known as vertical lift modules) allows you to store your items in a system that will bring what you need to you at the push of a button. Commonly used in industrial, automotive, and healthcare applications, vertical storage is a great solution that can be customized to meet all your needs. These are the 5 big benefits of vertical storage.
1. SPACE SAVINGS
Vertical storage frees up space that you can use for more storage or additional revenue generating activities.
2. PRODUCTIVITY GAINS
Parts are picked with fewer people which creates more efficient operations and faster service times.
3. ACCESS MANAGEMENT
All valuable inventory items are contained, under lock and key, and protected by password access.
4. CONTROL IMPROVEMENTS
Hänel's advanced controllers and software options improve inventory accuracy to +99%.
5. ERGONOMIC BENEFITS
Parts are brought to the operator to eliminating stooping, reaching, and heavy lifting.