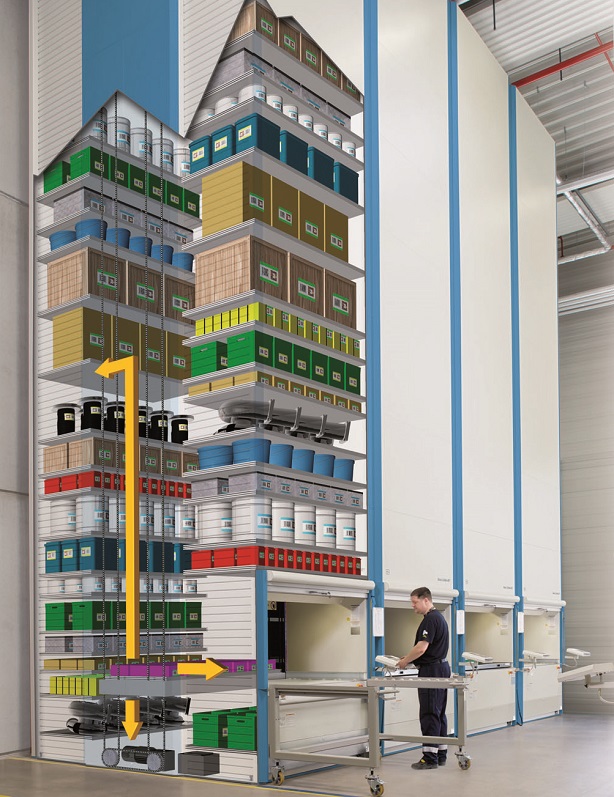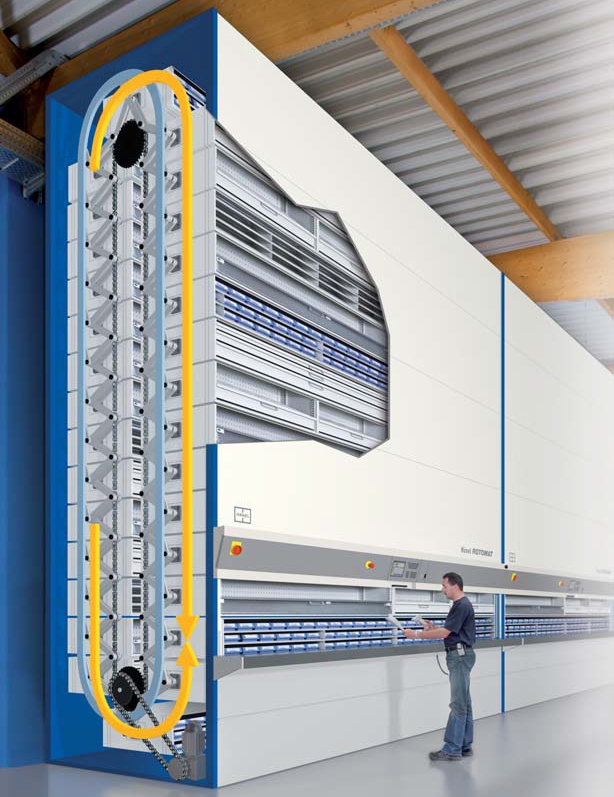 IMPROVE INVENTORY ACCURACY AND MANAGEMENT.
1. STILES MACHINERY INC.
Stiles Machinery Inc. is the largest independent distributor of CNC equipment for processing wood, plastic, glass, and stone. Their parts department stocks over $30 million in inventory and ships more than 50,000 orders every year. To store their parts, they use the Hänel Lean-Lift Vertical Lift Module. The 9 Lean-Lifts are integrated with the inventory system and managed by Hänel's software that's tied to their ERP system. The storage and retrieval software allows for a same-day ship rate of 99.9% and a sales order based first-pass fill rate of over 94% – almost 10% above the national average. By integrating with the inventory system, pick times are reduced and all parts are delivered to the user at an ergonomically-correct height, saving employees from injury and improving productivity.
2. LIVINGSTON & HAVEN
Livingston & Haven in Charlotte, NC built a new headquarters with a large warehouse and distribution centre. They needed a flexible solution that would help them process thousands of parts to support their manufacturing clients, so they installed Hänel Lean-Lift Vertical Lift Modules. The new warehouse was designed with a deep pit at one end for a row of 4 Hänel Lean-Lifts with room to grow. By digging the pit, the lifts could be taller for more capacity with the access point at floor level.
The Lean-Lifts feature handheld barcode scanners and printers connected to Livingston & Haven's inventory control system. This allows orders to be picked and labeled right at the machines and then sent to shipping for final processing. A single employee can now pick and stock hundreds of parts per hour.
3. MISSISSIPPI VALLEY STIHL
Fast equipment turnaround times are critical for Mississippi Valley Stihl's clients. So when they started running out of space at their Peoria, IL facility, they turned to the experts at Hänel. Hänel installed 4 Lean-Lift Vertical Lift Modules to consolidate 8,500 square feet of shelving into just 128 square feet. They also installed an inventory control system allowing MVS to eliminate paper orders and pack lists. Not only did the vertical storage reduce their footprint, it also saved employees time by not having to go and retrieve parts; instead everything is delivered right to them.  Overall, as a result of Hänel Lean-Lifts, MVS was able to save space, improve efficiency, and provide a better customer experience.
4. UNITED LAUNCH ALLIANCE
United Launch Alliance provides space launch services for the U.S. government. Their production facility in Dacatur, Alabama houses their manufacturing, assembly, and integration of massive rockets with a warehouse nearby to store all their parts and supplies.
ULA needed a better way to store all of their parts so Hänel's experts performed an audit. ULA's inventory was consistent, with a uniform shape/size making the Hänel Rotomat Vertical Lift Module the perfect solution. 6 Rotomat Vertical Carousels were installed, and Hänel's microprocessor-based controls integrated the vertical lift modules with ULA's existing warehouse management system. Now, orders are efficiently processed across multiple machines helping improve organization, productivity, and use of space.