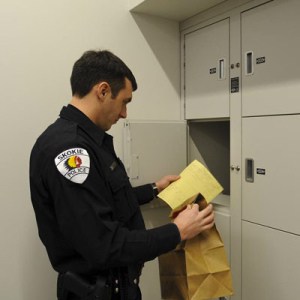 The field of evidence management is constantly changing with new technologies, techniques, and standards raising the bar for law enforcement. Check out these 12 trends in evidence management today.
1. EVIDENCE MANAGEMENT COMES INTO ITS OWN
Law enforcement professionals know the importance of establishing and maintaining a secure chain of custody. Implementing modern evidence management systems is gaining importance at law enforcement agencies around the world.
2. PASS BACK LOCKERS
The chain of custody must be maintained while evidence remains in limbo between the booking officer and the evidence room. Pass back lockers allow technicians to notify an officer that evidence needs to be labeled and packaged before it can be accepted, or notify that evidence is ready to be picked up prior to a court appearance.
3. PHOTOGRAPH & RELEASE
With evidence storage areas becoming crowded, and concerns of storing hazardous materials, some law enforcement agencies get permission to photograph and release evidence associated with misdemeanors and other lesser crimes, particularly if the evidence is large, cumbersome, or hazardous.
4. ELECTRONIC EVIDENCE MANAGEMENT
Barcoding and RFID are increasingly being used by law enforcement agencies to track evidence in crime labs and evidence rooms.
5. OFF-SITE EVIDENCE STORAGE
A growing number of law enforcement agencies are building warehouses or leasing space for long-term evidence storage. Off-site evidence storage is cost effective and a great option for maximizing space and keeping evidence organized.
6. REGIONALIZATION OF SMALL DEPARTMENTS
Some individual law enforcement agencies are electing to pool resources with other nearby agencies to build new evidence storage facilities or share existing ones. Bringing the region's evidence management professionals together is a great way to share ideas, improve processes, and maintain high standards of professionalism.
7. MARIJUANA LEGALIZATION
In American states where marijuana has been legalized, law enforcement agencies are seeing a reduction in the huge amount of drug material and paraphernalia that must be stored as evidence. However, butane hash reduction has become a problem, resulting in explosions and deadly fires. As a result, more evidence has to be stored in relation to those events.
8. DNA EVIDENCE
The National Institute of Justice specifies evidence containing DNA should be dried and stored in a cool place. Compact storage systems, whether in freezers, refrigerators, or air-conditioned rooms/warehouses, will prolong the useful life of evidence storage facilities by increasing storage capacity, improving organization and accessibility, and saving staff time.
9. SEXUAL ASSAULT KIT STORAGE
There is a tremendous backlog of untested sexual assault kits nationwide. Few agencies know exactly how many kits they have, or where these kits are located. As more agencies are required to find all untested kits and submit them for testing, new procedures must be established to maintain a secure chain of custody. Experts believe that in the future, law enforcement agencies will have a single area designated exclusively for sexual assault kit storage, organized by case number.
10. IN-HOUSE FORENSICS ACCREDITATION
Rather than sending evidence to an off-site facility for processing, some departments are upgrading in-house forensics labs and expanding lab services. This switch to onsite labs can offer more timely analysis and provide better investigative value.
11. HANDLING HAZARDOUS MATERIALS
Law enforcement agencies are increasing their efforts to separate hazardous materials evidence from benign or inert evidence. This usually involves the installation of secure, vented, fire-rated cabinets inside or outside an evidence storage facility.
12. BODY CAMERAS AND OTHER DIGITAL EVIDENCE
Many agencies are installing dash cams and requiring officers to wear body cameras while on duty. Whether an agency stores the video data on-site in evidence rooms or uses a cloud-based service, formal procedures should be established to maintain evidence, as well as to dispose of files that are not needed for evidentiary purposes.